We've all heard of writer's block.  We know it's a real thing.  But have you ever heard of card-maker's block?  It's a real thing, too.  I know because I have experienced it.  It happened to me yesterday.  I couldn't come up with anything.  Everything I tried turned out disastrous.
I'm embarrassed to show you.  However, I thought it would be fun to do a post of my mishaps.  I was trying to engineer windows that would pull open to reveal a cozy indoor fireplace scene.  No matter how hard I tried, I just couldn't figure out how to get the window on the left side to swing open.  I refused to YouTube it because I was determined to figure it out for myself.  (I'm stubborn that way sometimes.)  I gave up.  What was supposed to be a pull-out card with a fireplace scene using the Festive Fireplace Stamp Set, turned out to be a jeweled gold window winter scene.  Go figure.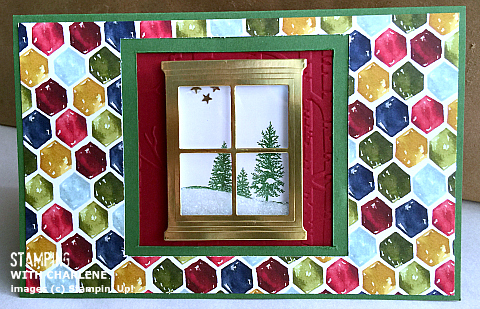 I trashed the swinging window idea.  I was second-guessing myself the entire time I was making this card.  My mind was playing tricks on me!  Who has a gold window frame?  Stars in the sky aren't gold.  What does the jeweled-toned piece of paper from the Season of Cheer Designer Series Paper have to do with a quaint outdoorsy winter theme?  How can I make a card without embellishments?  What?  No ribbon??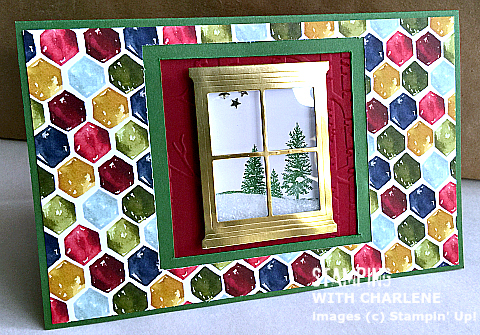 To calm myself down, I made a standard size card and added a piece of Gold 1/8″ Ribbon.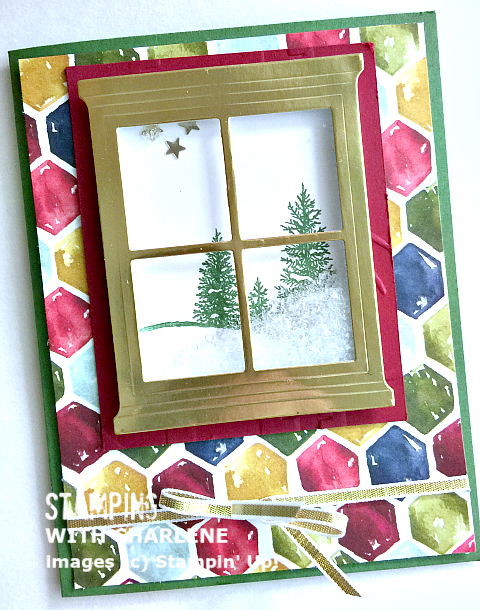 And then the mind games started all over again.  No sentiment?  Did I add too much "snow?"  You get the idea.
I finished it all off by eating a bowl of ice cream and I felt much better.  The end.
********
Do you ever have days like this?  Please share!