DIY Business Note Cards
Did you know that Stampin' Up! offers the perfect products for you to create DIY business note cards?  I created these business note cards for a charity that my daughter founded when she was sixteen years old called Cosmetics for a Cause.  She needed some cute and simple note cards to use whenever she has to drop a thank you card in the mail.  The quality of Stampin' Up!'s Whisper White Card Stock and Whisper White Envelopes are perfect for what she wanted.  Of course I had to add some bling and some embellishments because I just couldn't help myself! But that is the beauty of DIY, isn't it?  The ability to add a personal touch that no printing company can offer is a HUGE benefit of making your own business note cards.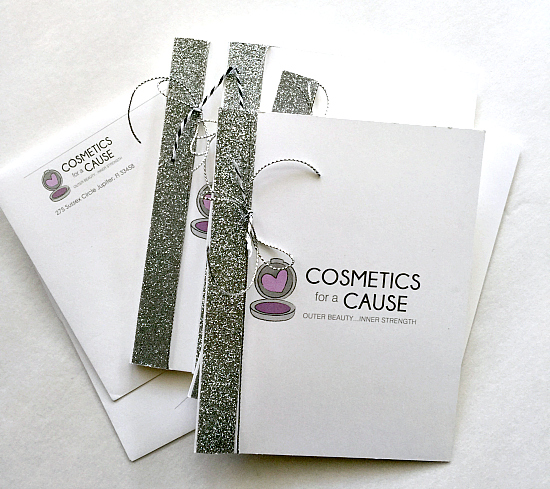 My daughter hired the wonderful Emily Fogelman of Emily Fogelman Designs to create a stunning logo. To create the cards, all I did was copy and paste the logo into the center of the card stock so that two cards printed on one piece of paper.  On the back of the card I put the address, phone, and website address.
Check out the cute envelopes, too!  I wish you could all feel the quality of our Whisper White Envelopes!  I don't know what word would adequately describe how they feel…butter?  smoothe?  classy?  I don't know!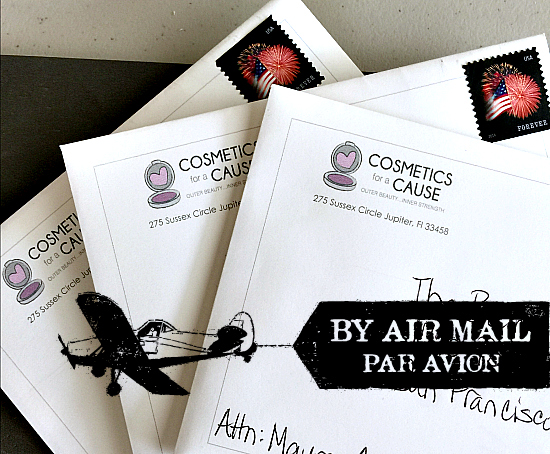 (The airplane is there to cover the address of the recipient, just FYI)
Sure, it's so easy to just send a thank you email.  Anyone is capable of that.  However, who wouldn't want to receive a hand-addressed, hand-written thank you note in the mail, and a DIY business note card to boot?  Your clients will certainly remember you, and in the case of Cosmetics for a Cause, it is important that the clients remember.
Speaking of Cosmetics for a Cause, be sure to visit the site HERE to read more about the charity and the good that it does for women in need.  If you have any new makeup that you aren't using, please consider sending it to Cosmetics for a Cause and the lovely volunteers will make sure that your products are given to an organization that helps women in distressed situations.
Here is a quick look at the supplies I used to create these DIY business note cards.  Order the supplies and make your own, or send me an email or leave a comment and I can make them for you!  If you decide to make your own, be sure to add some embellishments and bling to really make your business note cards stand out!!