Hallows Night Magic:  September Card Class in the Mail
Let's make some Hallows Night Magic!  My September Card Class in the Mail includes five different Halloween double easel fold designs (you'll receive enough supplies to make two each of five designs) using all of the items from the Hallows Night Magic Bundle on pages 52-54 in the Mini Catalog.  The cards are all different but are made with one easy layout.  They are fantastic and they double as gift card and/or candy holders!
'ALMOST LIVE STAMPING WITH CHARLENE" VIDEO TUTORIAL
I'll show you how to create this FUN double easel fold card during my "Almost Live Stamping with Charlene" YouTube event. The pre-recorded video will go LIVE on Tuesday, Sept. 8th at 8pm eastern.  I'll be there LIVE to watch the video along with you and interact with your comments and answer your questions.
Be sure to subscribe to my YouTube channel so you'll receive an email reminder about the event. Just click HERE and then click "Subscribe." Be sure to also click the little "bell" icon. It's free to subscribe and you won't receive any spam emails from me.
I'm calling it "Almost Live" because LIVE video broadcasting a tutorial is just too darn difficult! I don't have a "team" behind-the-scenes to assist me – that's okay 🙂 – and I'd rather concentrate on bringing you the best free paper crafting tutorials instead of worrying about bringing you the content live. It will happen one day, but for now, we'll just call it "Almost Live Stamping with Charlene." Sound good?
For the foreseeable future, I plan on pre-recording my video tutorials and then watching them LIVE along with you. It's much easier this way for a couple of reasons.  First,  I'll be able to take care of all of the technical difficulties beforehand and we can just concentrate on the card making together!  Second, I'll be able to pretty much guarantee that I will be able to post a new video every week without having to worry about my Tuesday night availability.  (I also work as a lifestyle model, and I never know my schedule. By pre-recording my videos, I'll almost certainly be able to watch along with you without the unpredictability of my schedule.)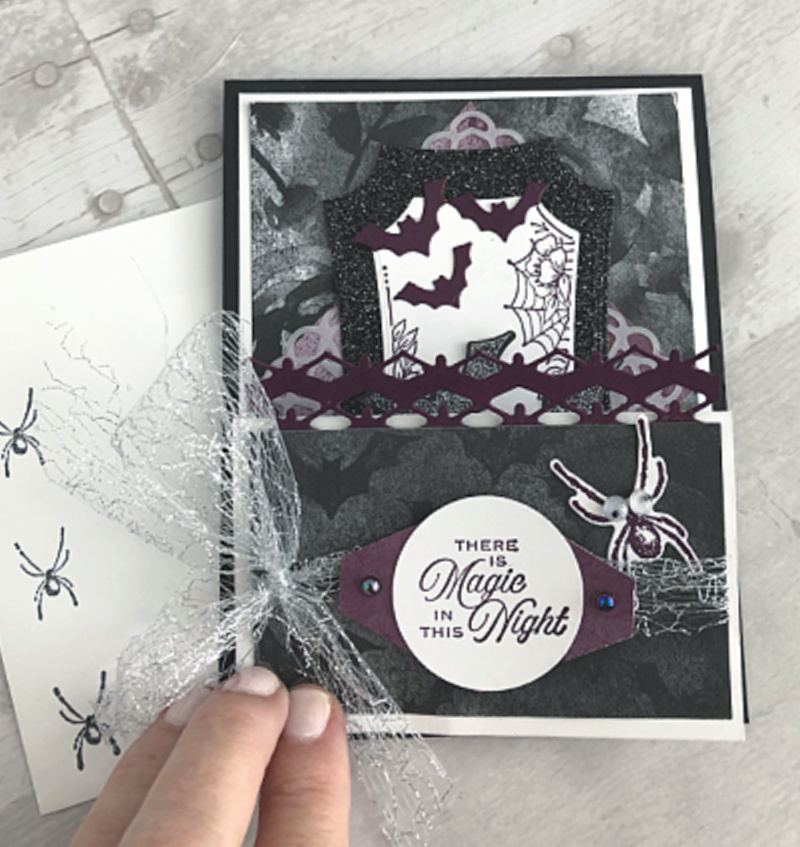 What Will Halloween 2020 Look Like?
I have a strong feeling that Trick or Treat 2020 will be either cancelled or radically different this year.  As a result, with my September Card Class in the Mail, you'll be able to make TEN Halloween cards that double as gift card holder and/or candy holders.  They are perfect for your neighbors, nieces, nephews, grandchildren … you name it!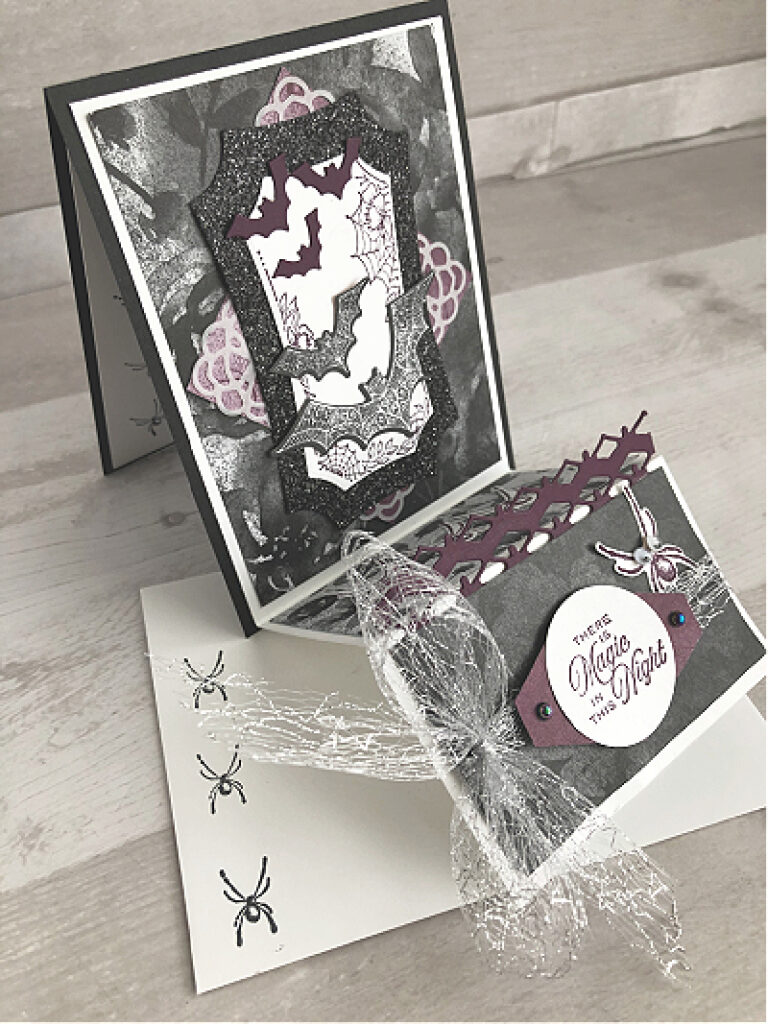 Five Cards with One Easy Layout
I'll show you how to create a really easy "double easel fold" card.  I LOVE this card design because it also doubles as a decoration.  It can be displayed on a desk or shelf and add to your Halloween magic. You can decorate the small center part, insert a gift card, insert a small piece of candy, or even insert a small folded bit of money or coins.  You will LOVE it!
What is a "Card Class in the Mail"?
For the month of September, you can read all about the details on my "Card Classes in the Mail" page and watch my YouTube video on Sept. 8th at 8pm eastern.  Here are some details:
What You Purchase/How to Participate: 
Order the "Hallows Night Magic Bundle" (Item #155188) or any other products that total $45 (before tax/shipping) from my online store
Enter Host Code JPHTTAMY
Additional Items You Will Need if You Want Your Cards to Look Like Mine:
Stampin' Dimensionals, Multipurpose Liquid Glue, Tear and Tape Adhesive, Mini Glue Dots
Die cut and emboss machine
1-1/2″ circle punch
Tailored Tag Punch
What You Receive:
Pre-cut, pre-scored cardstock (enough for ten cards)
Pre-cut Magic in the Night Designer Series Paper (enough for ten cards)
Metallic Mesh Ribbon (enough for ten cards)
Iridescent Pearls (enough for ten cards)
Pre-cut Black Glitter Paper (cut to fit the Halloween Magic Dies you will need to die cut – enough for ten cards)
Pre-cut cardstock for sentiments and other die cut pieces (enough for ten cards)
Ten Square Vellum Doilies
Ten Whisper White Envelopes
Free exclusive private link to the video tutorial for all five cards
Free shipping
What People are Saying:
"I love your videos and your classes in the mail!  It's so easy to follow along and make the cards!" – Angie G.
"I'm not intimidated to use my Stampin' Up! supplies anymore!  I just watch your videos and follow along.  I love the pre-cut supplies.  It makes it so easy for me to make cards now!" – Patricia C.
"Your cards are gorgeous!  I'm so happy that you've made it so easy for us to copy what you do!" – Rose G.
SUPPLIES: