July Hostess Code, Bonus Days, and Christmas in July!
July Hostess Code
I can't believe it's already July!!!  Help me celebrate you!  Please use my July Hostess Code whenever you place an order via my online store:
AWWKBQY4
When you enter the code, I'll be able to reward you with a free catalog item (that I'll choose for you!) in August. To read all about my new Reward Program, click HERE.
Bonus Days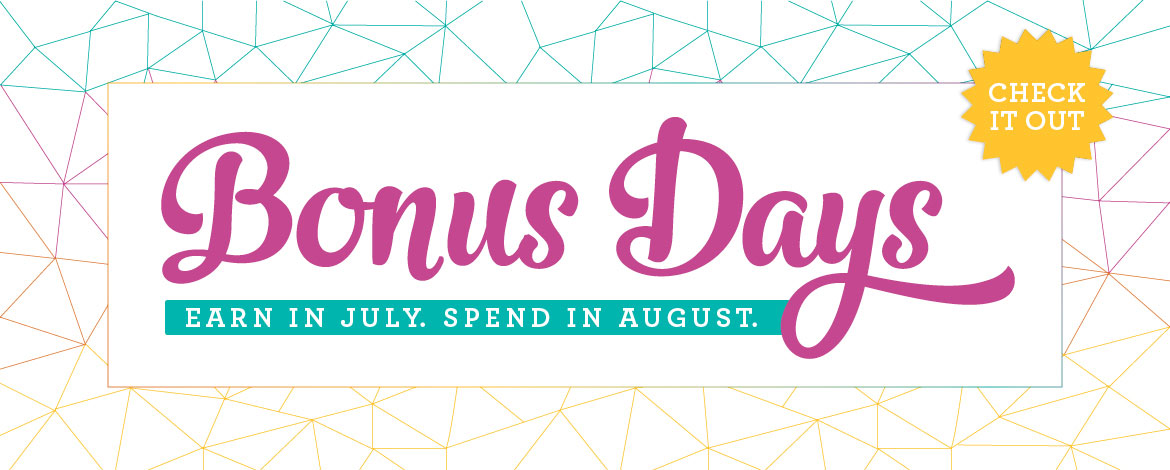 Ahhh!  Even more fun news!  During the month of July, for every $50 you spend (before tax and shipping) you will receive a $5 coupon to use in August.  You can read all about the Bonus Days Special Offer HERE.
Christmas in July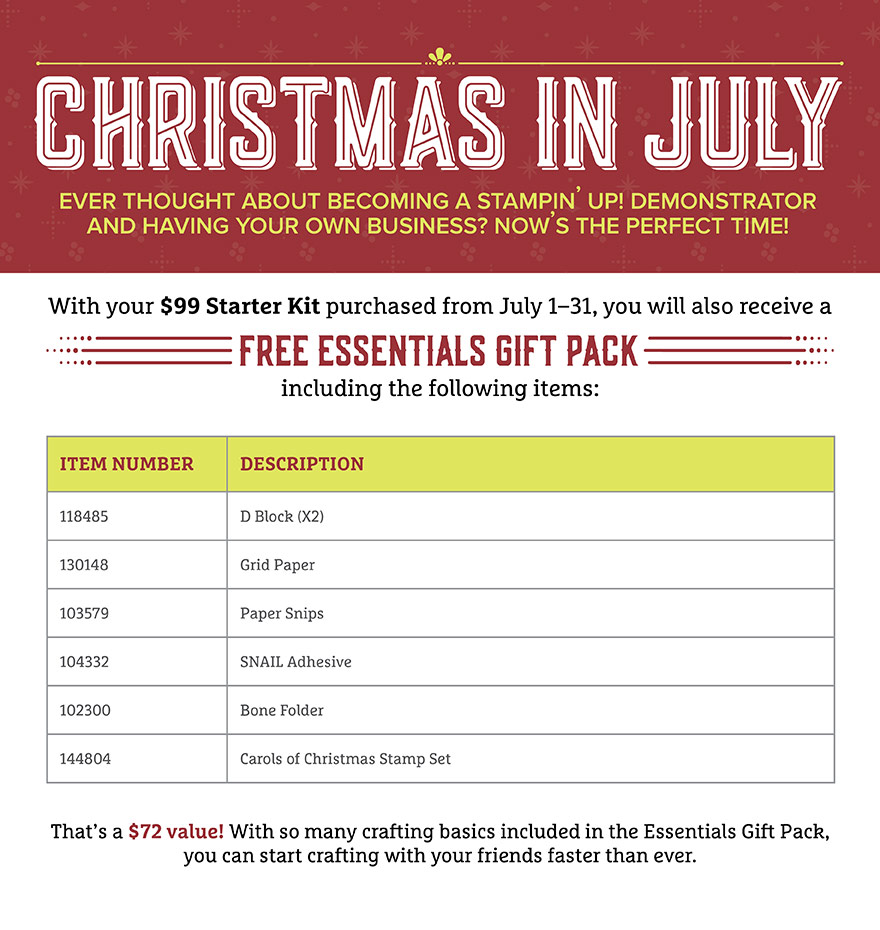 I never understood the meaning of Christmas in July util I started making a selling Christmas cards.  Now I bless the person  who thought of this concept.  If I don't start making my Christmas cards in July, it's too late.  I will never finish them on  time.  Never.
To make your Christmas in July more fun, Stampin' Up! is offering you an additional $72 in FREE merchandise when you spend $99 on the Stampin' Up! Starter Kit.  Yes, technically you will be signing up to become a Stampin' Up! Demonstrator, but that doesn't mean you have to continue.  It is perfectly okay to sign up as a demonstrator just so you can receive $125 in Stampin' Up! product for only $99 (and during July, you'll receive $197 in product for only $99.) You are under no obligation to continue as a demonstrator.  You can let you demonstratorship "drop" and return to being my regular Stampin' Up! customer just like you are now.  (However, I bet you'll love the idea of the 20% merchandise discount that you'll want to continue!)
For the details, click HERE and scroll down to the bottom of the page for the details.  If you want to learn even more, send me an email at charlene@stampinwithcharlene.com and we can arrange a time to speak on the phone.
One More Thing!
Today, July 3, 2017, is my fifteen year anniversary as a Stampin' Up! demonstrator.  It's a decision I made without hesitation and one that I have never regretted!!!