Tin of Cards Project Kit
It's March…already!  I'm already thinking ahead to Mother's Day!  I'm going to be making a bunch of the Tin of Cards Project Kits to give to the special women in my life.  Luckily for me AND FOR YOU, the wonderful Tin of Cards Project Kit is on sale as part of Stampin' Up!'s Weekly Deals from today until next Monday, March 7th!
The Tin of Cards Project Kit makes a fabulous gift because it is an all-inclusive kit that contains everything you need (except adhesive) to create sixteen greeting cards,  PLUS you also receive the dividers and the tin to keep your cards organized into categories.  Look at how beautiful!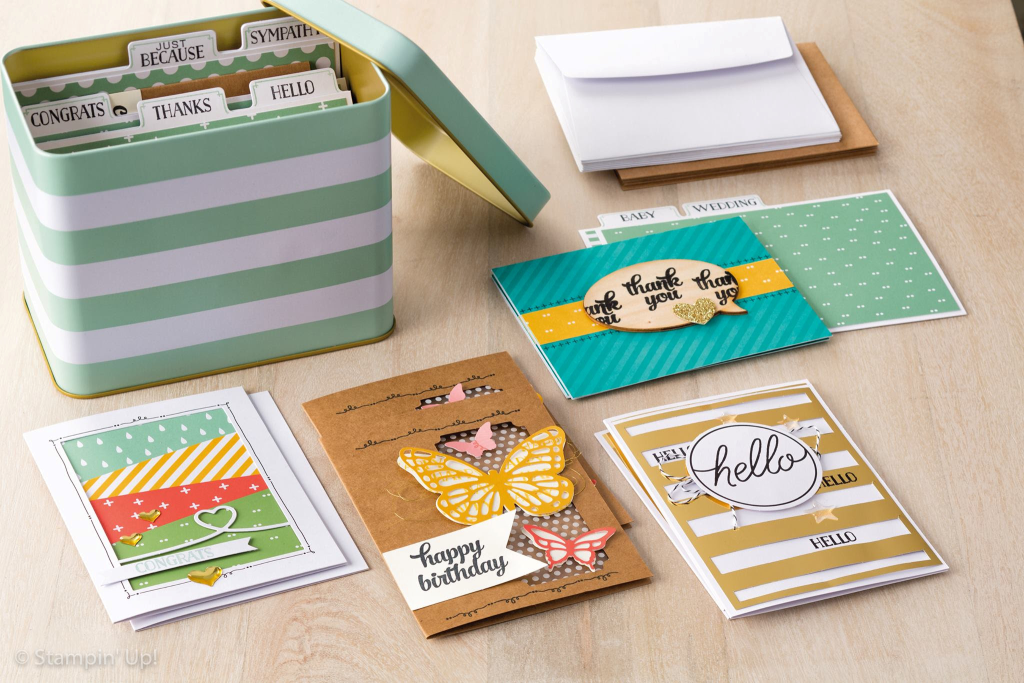 If you live in the area, click HERE to read the details on my Upcoming Events page to see how you can join me in making this beautiful project at my upcoming event on March 11th.  I will have a kit just for you, plus you can use my Tin of Cards Photopolymer Stamp Set to complete the cards as show.  I'll also be throwing in some additional designs that I come up with on my own.
The Tin of Cards Project Kit normally sells for $27.00 PLUS shipping and handling; however, you can join me at  my class and pay only $25!  If you don't live locally, you can order the Tin of Cards Project Kit until Monday, March 4th for only $20.25 plus shipping and handling.  Be sure to add the Tin of Cards Stamp Set to your order, too, so that you'll be able to complete the project.  The Tin of Cards Photopolymer Stamp Set is only $17 and includes 20 stamps. That is such a great value!  Add in some adhesive and a Black Archival Ink Pad and you'll be at $50, which means you can order a FREE item from the Sale-a-Bration Brochure.  Such fun!!