Ombre Ribbon from Stampin' Up!
You guys!  The new Ombre Ribbon from Stampin' Up! is absolutely gorgeous!  You are going to want to buy it in all the available colors!  Today's card features the Island Indigo Ombre Ribbon from the new upcoming 2017-18 Stampin' Up! Annual Catalog. The Ombre Ribbon will also be available in Calypso Coral and Lemon Lime Twist – another new 2017-19 In-Color!!! Take a look at the dramatic effect that the ribbon adds: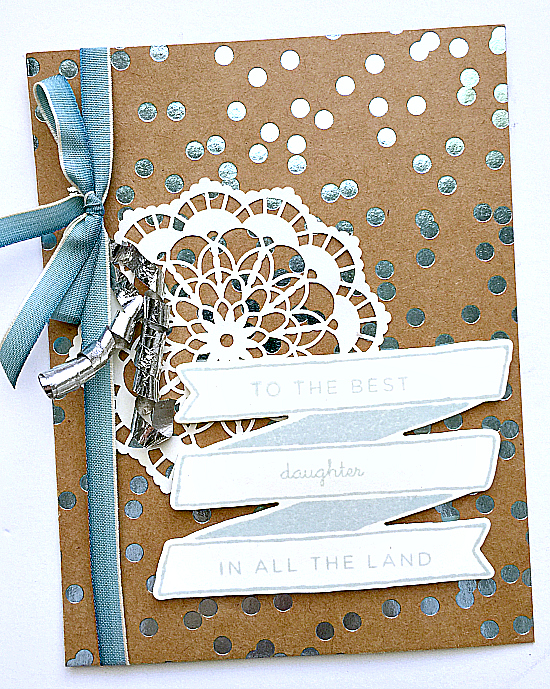 Notice the silver ribbon?  It's a Mini Gift Bow that I unraveled and added to the card for extra bling.  I love all of the new ribbons and embellishments that will be available in June!!  The sentiment I used for this card are sayings from the new World's Best Trophy Stamp Set.  I used the unique Bunch of Banners Framelits to die-cut the words.
I need to make two of these cards.  I have two daughters, and they are both the best daughters in all the land!
FYI…I still have plenty of projects to show you from the samples I created for the display board for Stampin' Up!'s OnStage event in Savannah.  I'm taking a break on Monday to post my last Stamp Review Crew post for this season.  You won't want to miss that post!  Be sure to come back on Monday for the SRC post.  I'll resume my display board posts on Tuesday, April 18th, which also happens to be our 30th wedding anniversary!!  Woo Hoo!!