Party Wishes Stamp Set
Look at the fun card you can create with the Party Wishes Stamp Set from the It's My Party Collection in the 2016 Stampin' Up! Occasions Catalog!  Stampin' Up! demonstrators who attended the Fall 2015 OnStage Global Event created the first part of the card – the Designer Series Paper, the Happy Birthday sentiment, the punched balloon, cupcakes, and candle, and the Baker's Twine – during one of the event presentations.  When I returned home, I added what we created to the Mint Macaron card stock to finish off the project.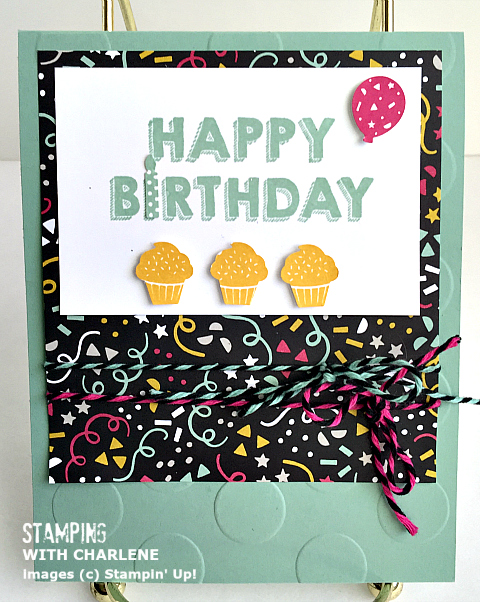 You'll notice that I used the Large Polka Dot Textured Impressions Embossing Folder to add dimension and texture to the Mint Macaron card base.  (Take a look at the Confetti Textured Impressions Embossing Folder that is part of the It's My Party Suite on the card I showed you yesterday HERE.  Dimension on a card is fabulous, isn't it?!)
In my post yesterday, I also mentioned that one of the reasons why I love the Party Wishes Stamp Set and the entire It's My Party Collection is because the images, patterns, and colors are perfect for creating unisex birthday cards.  I made today's card a little more feminine by adding half of a Tea Lace Paper Doily to the bottom of the card to show you an easy alternative.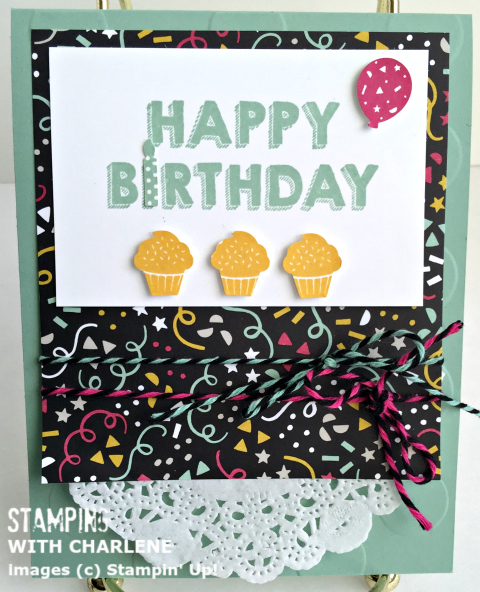 Let's talk about the adorable cupcakes, balloons, and candle, shall we???  How cute are they?!?!?!?!  I love them! After I stamped the images, I used the corresponding punches from the Party Punch Pack (sold in a bundle with the Party Wishes Stamp Set HERE) to punch them.  I love, love, love these new punches!  You'll notice that the punches punch the exact size of each image – there is NO border!  You get a perfectly punched image every time without having to worry about making sure the border is even around the entire image.  Yea!!
NOW is the time to order the products in the It's My Party Collection!  For every $50 you spend, you can order FREE Stampin' Up! products from the Sale-a-Bration Brochure.  Woo Hoo!!!  Free stuff!!