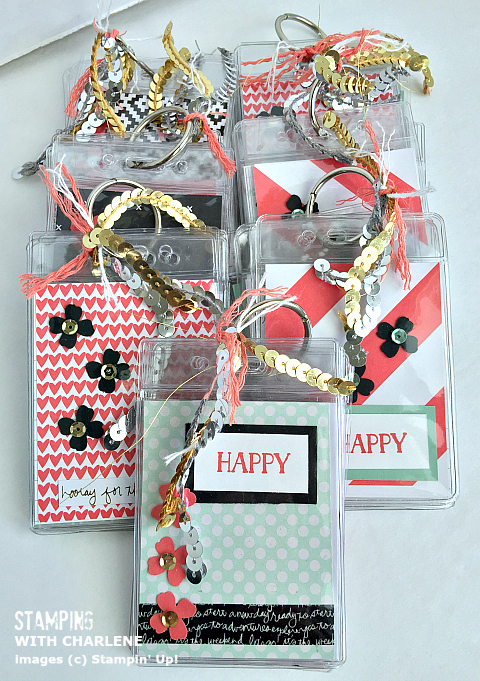 I made these cute mini albums using the Moments Like These Project Life Bundle by Stampin' Up! to swap at next week's Stampin' Up! 2015 Inspire – Create – Share event in Salt Lake City.  I am excited to attend and be a part of all the fun!  I have attend Stampin' Up! national conventions three times, Leadership twice, and several Regional gatherings. (I once had the opportunity to do an on-stage presentation at one of the Regional events.)  One of the benefits of attending live Stampin' Up! events is the exposure to so much creativity.  Not only do the Stampin' Up! employees fill us with ideas and inspiration for projects and products, but we also have the opportunity to create our own projects and trade our items with others.  "Swapping" is a great way to meet fellow demonstrators and to get inspired.
Even though the mini albums I made for my swaps look like they were a ton of work, I made all of them in under two hours!  Here's how:
Supplies:
Moments Like These Project Life by Stampin' Up!
Tin of Cards Photopolymer Stamp Set
To add the bling, you can use whatever punches and accessories that you would like to use,  but I used
     Itty Bitty Accents Punch Pack
     Gold & Silver Sequin Trims
     Silver Metallic Thread
     Calypso Coral Thick Baker's Twine
Purchased plastic name tags and metal key rings
How-to:
Trim assorted papers from the Moments Like These Project Life Kit to measure 2-1/2″ x 3-1/4″
Add embellishments to each piece of paper
Insert the embellished papers into the name tags (I used six pieces of paper/six name tags per album, but you can use as many as you want to!)
Attach the pages to the metal ring
Tie assorted ribbons around the ring
THAT IS ALL!!!  It doesn't get any easier than that!!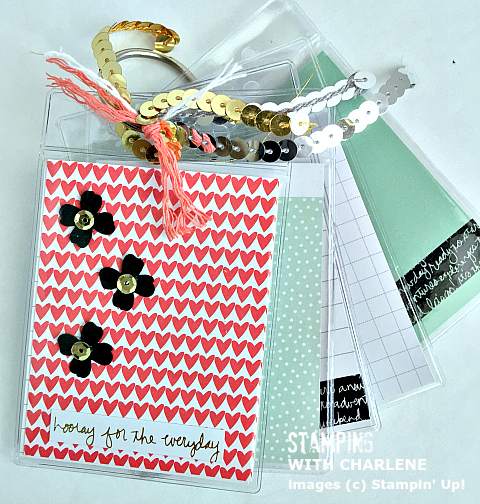 Play around with the different patterns of papers included in the kit.  Here are two combinations I put together: