Slimline Card and Envelope
Hi, Friends!  Have you seen the trendy new slimline card layout?  Join my Tuesday night, October 27th, at 8pm eastern for the "almost live" YouTube video tutorial.  I'll show you how to easily make a slimline card and envelope using the Snowman Season stamp set and the Snowflake Splendor Designer Series Paper from Stampin' Up!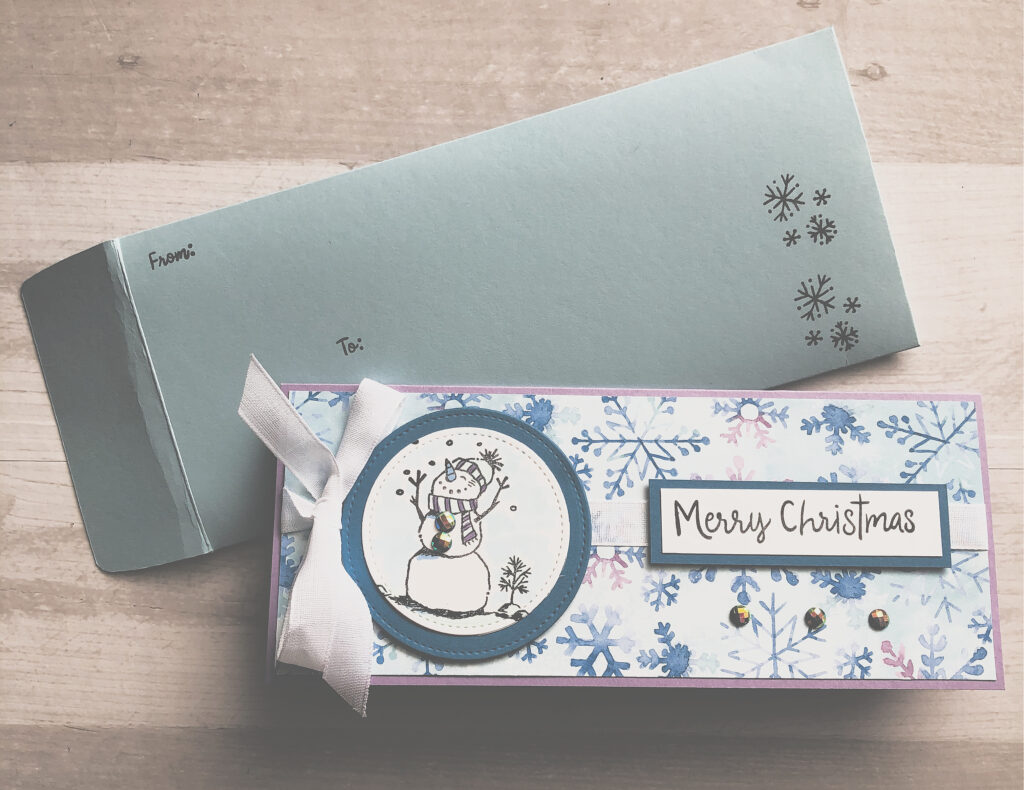 What is a Slimline Card?
A slimline card is a card that fits into a regular old-fashioned business envelope.  Think of the olden days when you used to mail a letter to a friend and you folded your notebook paper into thirds and stuck it in an envelope.  Now, picture a card the same size.  That's a slimline card!
Not Just an Office Supply Envelope
Sure, your newly designed slimline card will fit into an envelope that you can purchase at any office supply store.  BUT THERE IS NO WAY I WOULD LET YOU DO THAT!  I'll show you how to create your own coordinating slimline envelope using both regular cardstock and Designer Series Paper.  I'll even show you how to make your own sticky address labels.  The creativity never ends!!  I love sharing it all with you. 🙂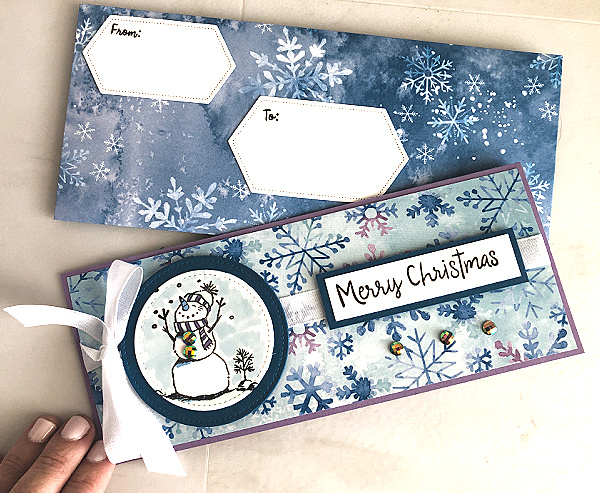 Designer Series Paper On Sale
The Snowflake Splendor Designer Series Paper (along with all of Stampin' Up!'s 12 x 12 Designer Series Paper) is currently on sale for 15% off.  I'm so darn in love with the Snowflake Splendor paper that I had to order a bunch because I'm going to use it for our family Christmas card this year.  (I'm also using it in the November Card Class in the Mail, which I will debut on Tuesday, November 3rd.  Stay tuned!)
Be Sure to Join Me for "Almost Live" Stamping with Charlene
Mark your calendar!  I'll be watching along with you and commenting.  You don't want to miss the slimline card and envelope video!!  Wait until you see the address labels, too.
Printable Template
Click HERE for the envelope template.  If you don't want to bother with measurements, just print out the template, cut it out, and trace it onto your cardstock or Designer Series Paper.  Cut, score, and attach Tear and Tape adhesive and you're done!
Supplies