In addition to using Stampin' Up! products to create wonderful handmade greeting cards, I have also created several different "out-of-the-box" paper crafted items over the years.  These project have been some of my favorites.  I have held onto them because they remind me not only of how much I love to create and inspire others to create, but also how much I love Stampin' Up! and the endless amount of possibilities that its products offer.  You can use stamps, ink, and paper to create cards, home décor items, pennant banners, and party favors.  All it takes is one peek into Stampin' Up!'s catalog and you will immediately realize that it is a one-stop shopping experience.  Your days of walking the isles of craft stores will become a thing of the past.
This paper cake is my all-time favorite project.  Each piece of cake is an individual treat box that party guests can take home.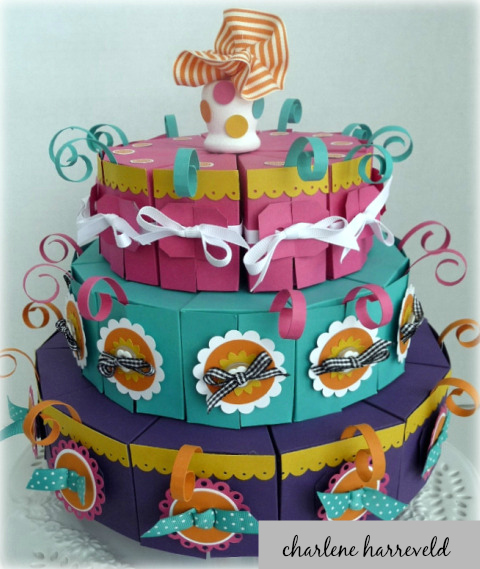 The cardstock colors and ribbon and trim make this cake so deliciously tempting to grab a slice and tear it open.  Be sure to keep an eye out for the new 2015-16 Idea Book and Catalog.  If you like this cake, I think you will be very happy!!
This cake can easily be adapted to fit any occasion simply by changing the colors of the cardstock, ribbon, and embellishments:  Blushing Bride for a bridal shower, Pink Pirouette for a baby girl baby shower, or Soft Sky for a baby boy baby shower.  You get the idea.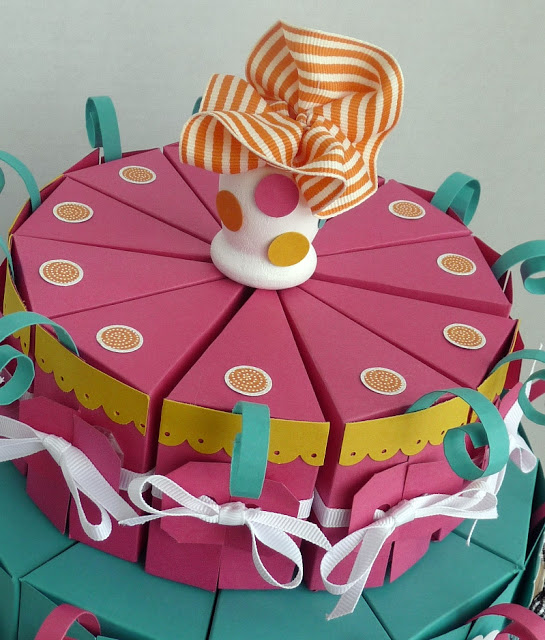 I should have made two of these cakes.  Why?  Because after all these years, it is still sitting on the shelf of my craft room.  I just can't seem to part with it.  (I did eat all the gumdrops, though.)