Wildflower Fields Designer Series Paper Card #2
To see Card #1, click HERE.  I'm excited to show you today's Wildflower Fields DSP (Designer Series Paper) card because the card layout isn't my usual design style. However, I wanted to once again mention the versatility of the beautiful colors and patterns of the Wildflower Fields DSP. I also want to remind you that even though I'm actively using new paper and stamp sets from the 2016 Occasions Catalog and Sale-a-Bration Catalog, the 2015-2016 Annual Catalog is still alive and well.  When you watch the corresponding video for this card, you'll see how one of the sheets of paper from the Everyday Chic Designer Series Paper coordinates perfectly with this particular design from the Wildflower Fields paper.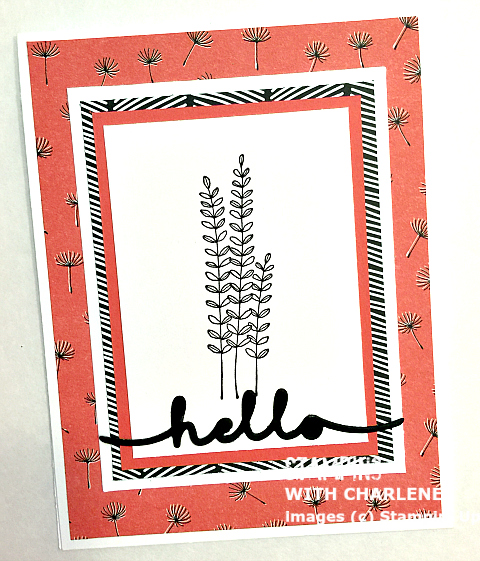 This card shows that you can assemble a card quickly and easily with just one stamp and allow the paper to do all the WOW-ing.  Listen to my short video explanation: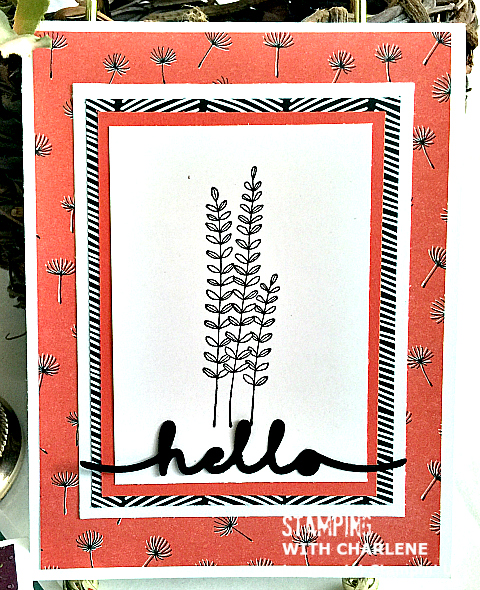 I have to admit that I wasn't too thrilled with this particular "dandelion" Calypso Coral/Black pattern in the Wildflower Fields Designer Series Paper Pack.  However, when I added the extra layer of paper from the Everyday Chic Designer Series Paper, I think the original pattern suddenly went from boring to chic.  The extra black and white makes the Calypso Coral background pop and turns this otherwise dull pattern into a WOW! card.
New stuff is always fun, but it's also fun to remember about the great products in the Annual Catalog.  I'm glad I pulled out my Everyday Chic Designer Series Paper and added it to this "hello" card.
A "hello" card can be used for several different occasions.  I like to leave all of my cards blank on the inside when I make them.  That way I can customize the card with a handwritten sentiment for whatever the need may be.
Come back tomorrow for Card #3!!