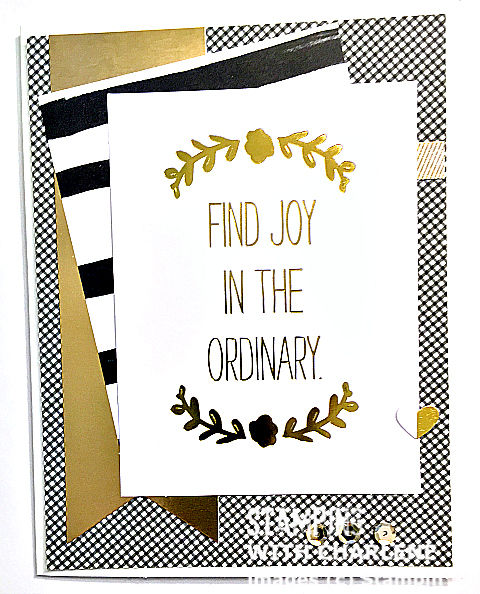 One of my top favorite items from the new 2015-2016 Stampin' Up! Annual Idea Book and Catalog is the Banner Triple Punch. It is three punches in one!   You can quickly create banners with widths of 1″, 1-1/2″, and 2″ and any lengths you choose.  The punch makes the banner-cut perfectly!  No more using your paper snips to try to get the points even.  Just cut the strip to your desired width and punch away!  (You can even use the cut-out triangle piece, too.)  The Banner Triple Punch stores flat so it doesn't take up much room in your craft storage and stacks atop your other Stampin' Up! punches.
Let's talk about the colors I used in this card, too.  I love haute couture and that is why I absolutely love the beautiful color combination of black and gold.  Just look at how chic this card is when Basic Black cardstock and Gold Foil are added to Whisper White cardstock.  This is such a simple card, yet it speaks volumes all because two basic colors are combined to make it pop.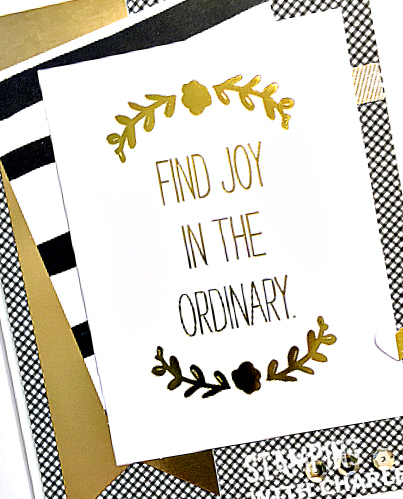 You can order the Banner Triple Punch when the catalog goes live on June 2nd.  You can also order the Moments Like These Project Life Card Collection by Stampin' Up! and the Moments Like These Project Life Accessory Pack by Stampin' Up! on June 2nd.
Be sure to follow me on my social media accounts and subscribe to receive blog updates so you won't miss out on the catalog launch.  (Find the links on the top of my right sidebar.)  Fun times ahead!!
*****
Don't forget about this week's Weekly Deals!  Click
HERE
to order.