Foil Frenzy Designer Series Paper
Friends!  I'm so excited that I am finally able to show you the projects I made for the display boards at Stampin' Up!'s OnStage event in Savannah.  OnStage was a fabulous event held over the weekend and was a great opportunity for Stampin' Up! demonstrators to mingle, learn and see new products.  It was such an honor for me to be chosen, along with a five other demonstrators, to make projects using brand new items that will be available in the upcoming 2017-2018 Stampin' Up! Annual Catalog.
Stampin' Up! mailed me a box of various items and it was up to me to create all of the projects from scratch. I LOVE, LOVE, LOVE creative challenges and using items that were brand new and never seen before by any other demonstrators was by far my most favorite creative challenge to date.  My box contained ribbons, punches, stamp sets, new 2017-19 In Color ink pads, and last but not least, the fabulous FOIL FRENZY DESIGNER SERIES PAPER! (Item #144125)  I made about 15 to 20 samples for the display board, and all of my projects centered around this beautiful new paper.  The FOIL FRENZY DESIGNER SERIES PAPER is unlike anything that Stampin' Up! has ever sold!  It's wonderful!  As a little hint for what's to come, the coordinating colors for the Foil Frenzy Designer Series Paper are Berry Burst, Lemon-Lime Twist, Tangerine Tango, and Soft Sky. Berry Burst and Lemon-Lime Twist are two of the new 2017-19 In-Colors.  I can't wait to show you the Lemon-Lime Twist projects!  OOOHHH!!
Today's project is this fun goody bag and coordinating cards.  (You'll be able to see the different patters that are included in the pack of 12 x 12 paper.)  If you're interested in the template for this cute bag, you can sign up to receive my "Template Tuesday" emails. (Sign-up is at the very bottom of this post.)  You'll receive free templates to my unique bags, boxes, and other fun projects that are out-of-the-box and really fun to make.
I used the "Fruit Stand" Designer Series Paper for my first three projects. This paper will be retiring at the end of May when the 2016-2017 Annual Stampin' Up! Catalog ordering ends.  Be sure to order it today so you'll be able to make all of the projects that I created with the sheets of Foil Frenzy Designer Series Paper that coordinates with Tangerine Tango.
The Foil Frenzy Designer paper is perfect for bags because it is firm and rugged.  Your project will last a long time, so it's perfect for filling with a set of note cards or candy or anything that has some weight to it.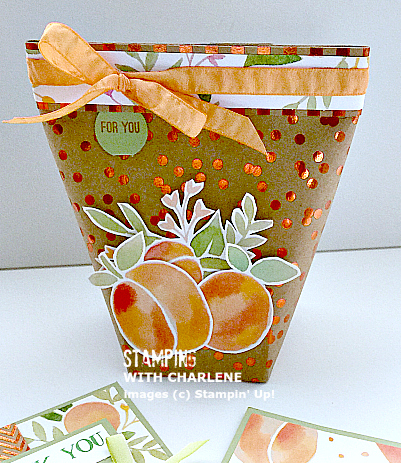 Notice the fun little "For You" sentiment? That's from the new World's Best Trophy stamp set that will be in the new catalog (Item #143691.) See the little tab it's stamped on? That's the new Circle Tab Punch!!!! (Item #143754)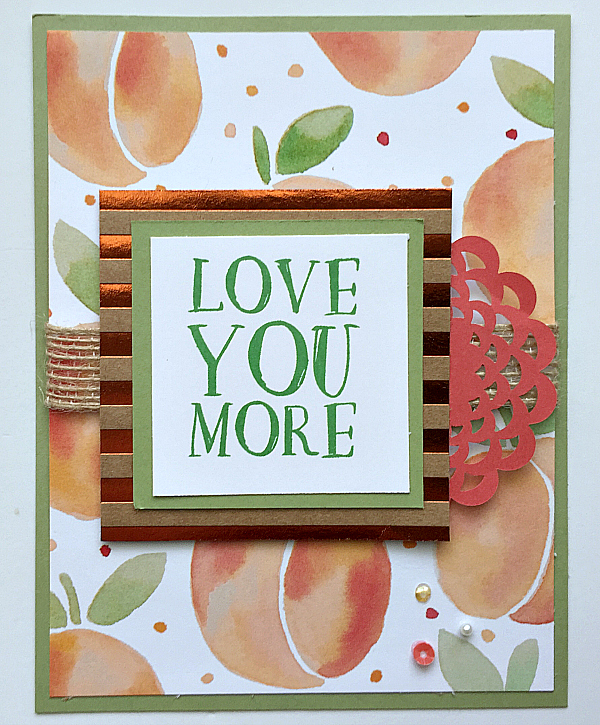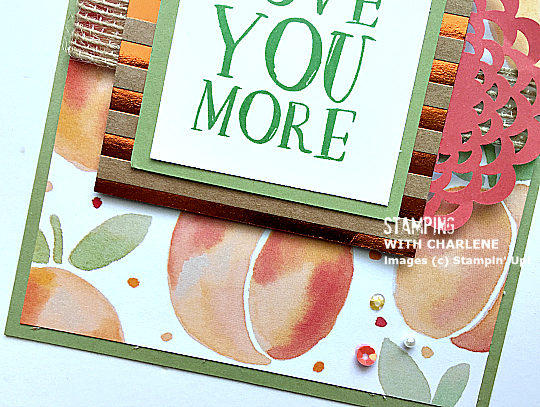 I can't wait to show you ALL of the projects I created for OnStage.  Be sure to check back EVERY DAY so you won't miss a thing!!  One easy way to follow along is to sign up to receive an email whenever I post a new project.  Just go to the top of my right sidebar and you'll see a box that says, "Enter Your Email Address."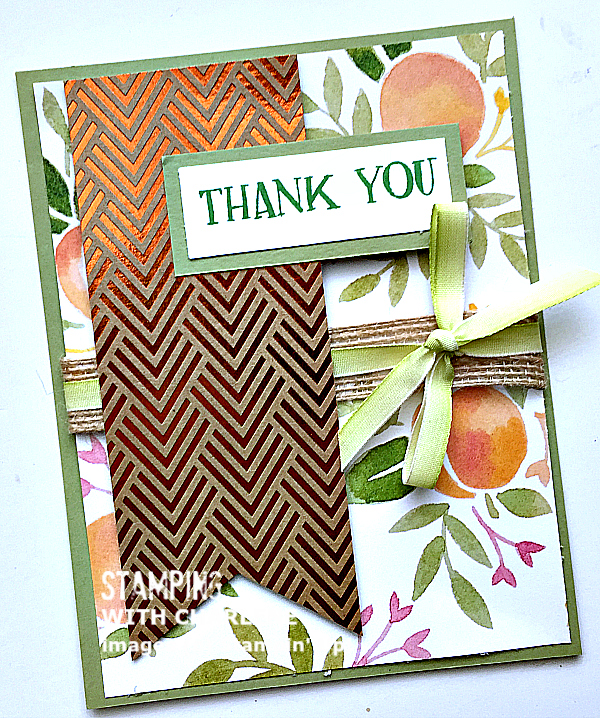 You'll be able to order the new products when the catalog goes live in June.  If you would like me to send you a new catalog, you can place an online order with me at https://charlenestamps.stampinup.net so that I'll get your contact info.  You can also send an email to charlene@stampinwithcharlene.com and request a catalog.  I'll mail catalogs to those who place online orders first, and those who request catalogs by email will receive their catalogs first-come, first-served.
See you tomorrow!!
Items You Can Order NOW to make these projects:
Fruit Stand Designer Series Paper
Fresh Fruit Photopolymer Stamp Set
Items You Can Order June 1st:
Foil Frenzy Designer Series Paper (#144125)
Circle Tab Punch (#143754)
World's Best Trophy Stamp Set (#143691)