Magnolia Lane Memories and More Card
June was the worst month of my life.  My father passed away in the early morning hours of Father's Day.  Of all the days.
I have a friend who has a very close connection to someone in the sports world that my dad has admired for as long as I can remember.  When my dad became ill, I reached out to my friend and asked if her connection could send my dad an autographed photo to lift his spirits.
A very nice package arrived for my dad on the day before Father's Day.  My friend not only sent an autographed picture, but also a very nice letter and some team merchandise, too.  I was able to share the gift with my dad during his last moments of clarity.  He passed away a few hours later.
How could I thank my friend for sending me what would turn out to be the very last gift I would ever give my dad? An ordinary thank you card wouldn't do, but in reality, I've been too stressed and preoccupied to design a card from scratch.
Thankfully, I fell in love with the entire Magnolia Lane Suite from the new 2019-20 Annual Catalog and I ordered all of it during the pre-order period when Stampin' Up! demonstrators are allowed to pre-buy certain items before they are released to the public.  I had all of the things on-hand that I needed to make this gorgeous card.
The Magnolia Lane Memories and More Card Pack and Magnolia Lane Large Specialty Memories and More Cards and Envelopes make it so easy to put together cards in no time.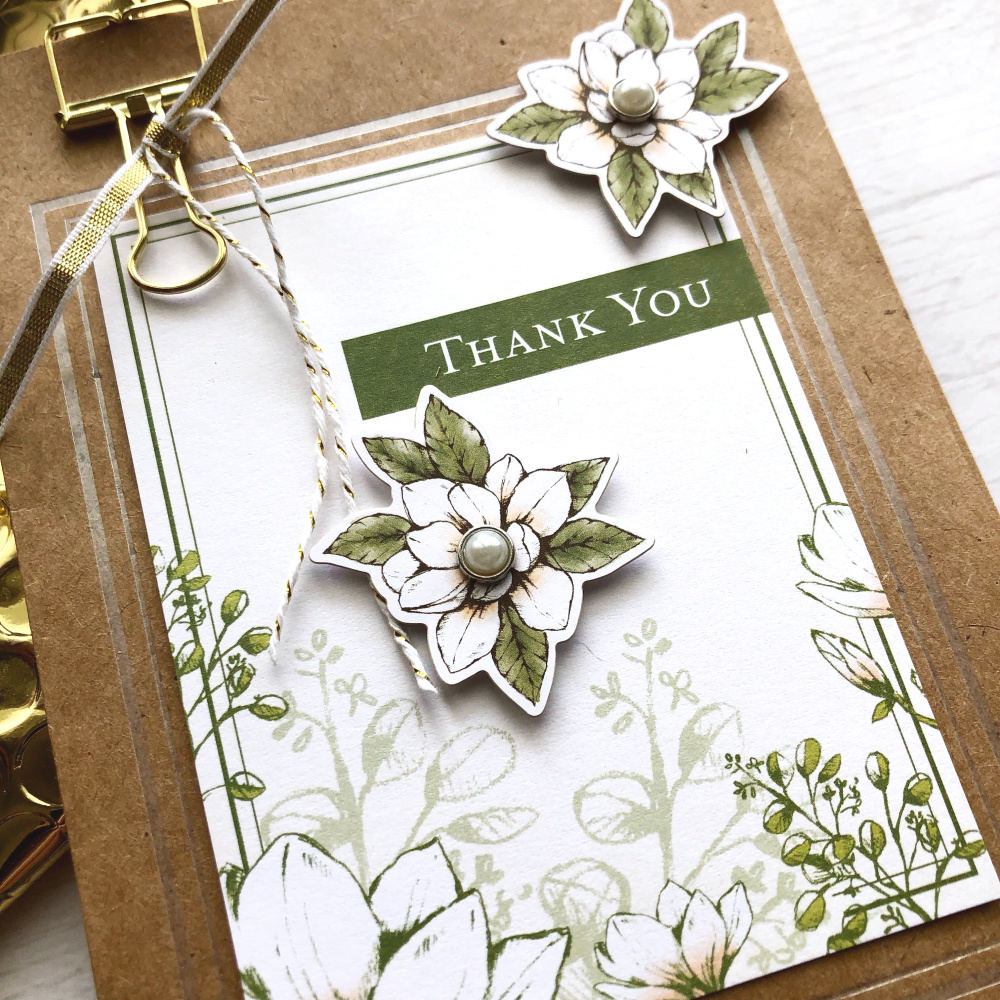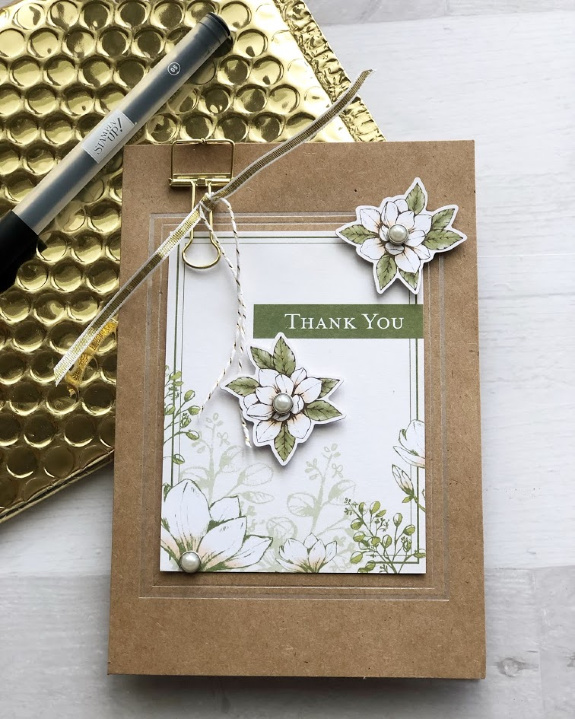 The pre-cut cards and gorgeous envelopes make these cards beyond beautiful.  I made an entire set of twenty cards in just two hours.  I'll show you more pictures next week.  In the meantime, here are the items I used to make today's card.
Important Tips:
the cards and envelopes are made out of different cardstock than the normal Stampin' Up! cardstock.  for the best adhesive, be sure to use Tear and Tape Adhesive to apply the card pieces to the cardstock.
i used retired binder clips, retired pearls, and retired ribbon on my card. i linked to current similar products.
if you use bulky accents like I did, you will need to mail your card in a padded envelope. you can purchase the gold envelopes i used HERE.