Masculine Card Collection
April Card Class in the Mail
Hi, Friends!  For the April Card Class in the Mail, we are making a masculine card collection.  It's always a challenge for me to create masculine cards.  That's why I decided it would be a good idea to make a masculine card collection for April and we can work together to make masculine cards so we can have them on-hand when we need them.
Be sure to join me on YouTube on Tuesday, April 6th at 8pm eastern for the premiere video tutorial.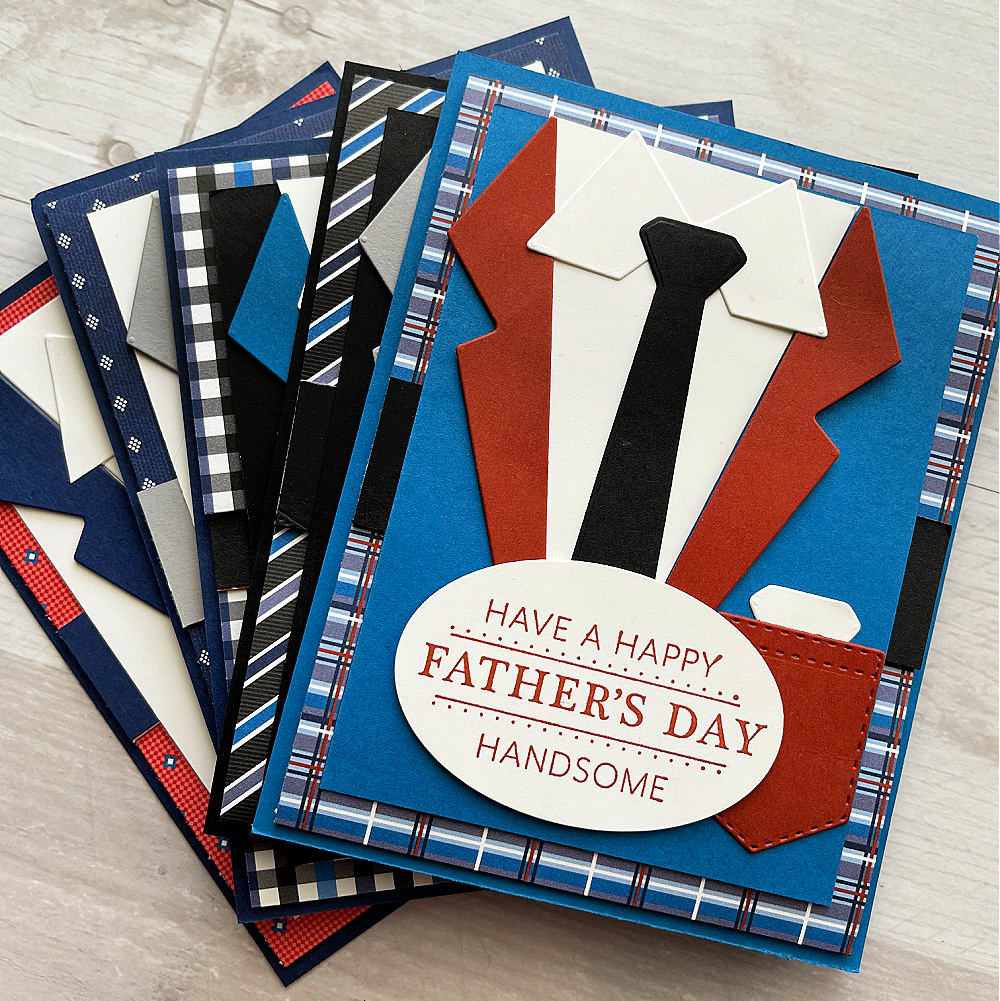 Stamp Set and Dies
For the April Card Class in the Mail, I used the Handsomely Suited Bundle from Stampin' Up!  The dies create the coolest suit, shirt, and tie combinations.  The stamp set includes five different sentiments.  If you want your cards to look exactly like mine, you will want to order the Handsomely Suited Bundle.  If you just want to create the suit and use sentiments that you already have, you can just order the Suit and Tie Dies.  Any sentiment will work.
How to Participate
If you want your cards to look exactly like mine, you will need the Handsomely Suited Bundle (Item #156240.) If you already have fun stamps with masculine sentiments (like happy birthday, thank you, etc.)  feel free to use what you already own!
To create the suit, you WILL need to order the Suit & Tie Dies (Item #154322)
To participate in the Card Class in the Mail, just place any order of $35 or more from my online store before tax and shipping by Friday, April 9th at 11:59pm eastern time
You MUST enter this hostess code when you place your order from my online store so that I'll know you want the free supplies:
    ECC2H2D3
IMPORTANT:  If your order totals $150 or more before tax and shipping, DO NOT enter the hostess code.  You will earn your own hostess rewards when your order reaches $150 before tax and shipping, which means you will earn hostess dollars that you can use to order free items!
 email me to let me know that you would like me to send you the pre-cut supplies and the link to the private video tutorial. If you don't email me, I won't know that you want the pre-cut supplies. (Tragic!)   charlene@stampinwithcharlene.com
You will receive pre-cut supplies to create TEN (10) cards – TWO (2) each of FIVE (5) designs, plus TEN (10) envelopes.  Your pre-cut supplies will ship free to you from me by First Class USPS mail during the week of April 19th.  The supplies will ship to the address you use when you submit your online order. This program is available to USA addresses ONLY.
In addition to the pre-cut card supplies, you'll also receive the private link to my FREE YouTube video tutorial. The private video is NOT the video that is available for everyone to watch on my YouTube channel.  The link you will receive is to a private video where I make every card individually so you can see step-by-step how to assemble each card.  Stamp along with me just as if you were at a class in my living room.  (The only thing missing will be the snacks!) In the video, I'll walk you through each card step-by-step.  You can watch at your leisure, pause, rewind, and/or fast-forward as you follow me while I demonstrate for you how to make each card.
Additional Information
To qualify for the free pre-cut supplies, you can order any products totaling $35 before tax and shipping that you want to!  You do not need to use the same stamps that I use.  If you have stamps that you haven't used in awhile, feel free to use them.  The cards all have the same layout, so you can easily use any sentiment.  However, you WILL need the Suit & Tie Dies.
The supplies I used are in a slideshow at the bottom of this post.  You can order by clicking on the pictures in the slideshow, or you can order directly from my online store
What is NOT Provided
Make sure you have adhesive and stampin dimensionals
Orders placed for my card kit do not qualify for my Monthly Reward Program.
What IS Provided
The full video tutorial, all of the pre-cut card stock, ribbon, and envelopes to make ten cards!
Here is a peek at all of the cards: