I love Stampin' Up!'s Dotty Angles photopolymer stamp set!  The images add so much dimension to your projects.  Who knew that litter geometric shapes could make a card pop with drama?  Remember this card?  Take a look at another!
I made this card in a snap with pieces from the new Moments Like These Project Life by Stampin' Up! Card Collection and Accessory Pack.  Do you like the new In-Colors for 2015-2017?  This card uses Watermelon Wonder and Mint Macaron.  I love, love, love these new colors and how they coordinate beautifully with gold and Basic Black.  Those cute little gold sequins come in the Moments Like These Accessory Pack along with Mint Macaron sequins and the little gold paper clips.  So classy!
Lucky for you, the Dotty Angles photopolymer stamp set will be available again in the new 2015-2016 Annual Stampin' Up! Idea Book and Catalog.  You can order it now.  The Project Life Card Collection, the Accessory Pack, and the new In-Colors will be available to order before you know it!  June 2nd is just around the corner!!
Do these stamps remind you of geometry class?!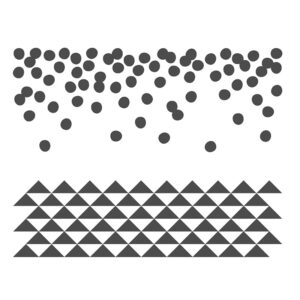 I also added some dimension by simply tearing off the top corner of the "Sparkle" card and using the ink-to-paper technique around the entire Mint Macaron piece.  So easy.  Really, anyone can make this card!