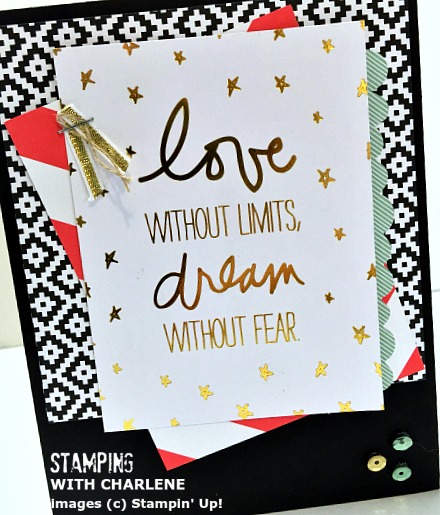 Look at the delicious pop of color that the new 2015-2017 In-Color Watermelon Wonder adds to the Basic Black, Whisper White, and gold used on this card.  I am so in love with all of these color!  They are so delicious that I want to eat them!!  Seriously, all of the colors look like delicious macarons, don't they?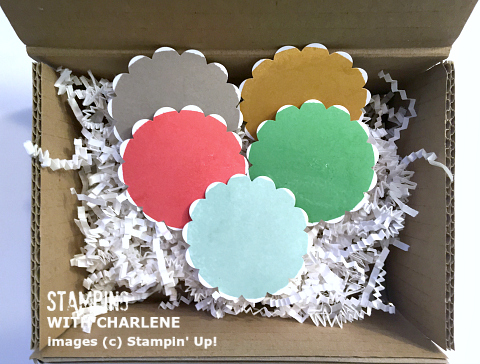 ********
I have a secret confession to make.  It has taken me a long, long time to come to terms with this, but once I embraced it, I have been so happy!  Here goes:  My name is Charlene and I am NOT a scrapbooker.  I have tried and tried and tried again and again and again, and I just don't enjoy it.  When Stampin' Up! came out with Project Life last year, I kind of looked the other way because I knew that it wouldn't be a good fit for me.  I did attempt to make a couple of layout (HERE and HERE) and they were so easy!  I thought that maybe I would be able to wear two hats; however, I just can't do it all!  I can't be a scrapbooker AND a greeting card designer, and that's okay.
The BEST NEWS is that I can still use Project Life and if you aren't a scrapbooker, either, so can you!  Just take a look at the fun and easy greeting cards you can make!  Here is a review of some that I have shown you over the past few days using the Playground Project Life by Stampin' Up! Card Collection and the Playground Project Life by Stampin' Up! Accessory Pack.
Give it a try!  You will whip out adorable cards so fast you won't want to stop.  Really, it is SOOOOO addicting!