March Madness Megaphone Template
It's time for March Madness so I thought now would be the perfect time to send you my March Madness Megaphone Template for Template Tuesday. You can see that I'm a Duke Blue Devil fan!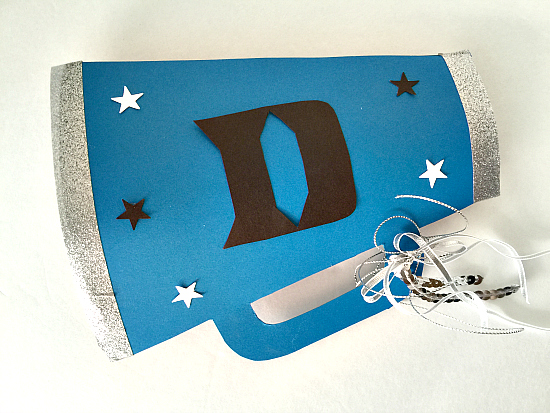 ("Duke Blue Devils" and the Black "D" are Registered Trademarks of Duke University.)
After you download the template (available for free to my Template Tuesday Newsletter subscribers,) just follow these easy directions to assemble your megaphone.  You'll be able to cheer for you favorite March Madness team in no time!  If you're planning on having a party, you can make several megaphones and fill them with all kinds of goodies.  Just staple the mouthpiece together before you put on the silver glitter tape.
Directions for the March Madness Megaphone:
Print the PDF from the Template Tuesday email onto regular printer paper or directly onto your favorite cardstock or Designer Series Paper cut down to 8-1/2″ x 11″
Cut out the two megaphone halves
Trace one of each template piece onto cardstock or your favorite Designer Series Paper
Cut the solid lines
Score the dotted lines
Apply Tear and Tape Adhesive to the two scored flaps
Assemble the megaphone
Decorate the outside
While I was at it, I also made a Duke Blue Devil greeting card and matching scrapbook.
You can use the card as an invitation to your March Madness party, and use the scrapbook as a little keepsake of photos from the event.
Here is a little slideshow of the items I used to make the megaphone: