Paper Dress Card Template & Tutorial & Introducing "Template Tuesday"
EDITED TO ADD TEMPLATE:
Click HERE for the template.
Check out this paper dress card!  It's been awhile since I've created an "out-of-the-box" paper craft project.  I've been so caught up with creating greeting cards that I started to miss my true passion of creating something out of nothing.
Remember when I was a contestant on "So You Think You're Crafty"? I made projects for weekly challenges and ended up placing second!  If it weren't for that competition, I never would have created my favorite project of all time…the paper cake!
I loved the challenge to create a new thing every week based on a certain theme.  Fast-forward to the present where I have decided to challenge myself to create a new "out-of-the-box" paper craft project every week.  This week, I've created a template and tutorial for this fun paper dress card.
If you would like to receive my FREE weekly templates via my new "Template Tuesday" newsletter, just fill in the form below.  Each Tuesday, a new template with instructions will be delivered to your inbox.  There is no obligation to join, and you can unsubscribe at any time.  Just scroll down to the bottom of this post for the sign-up form.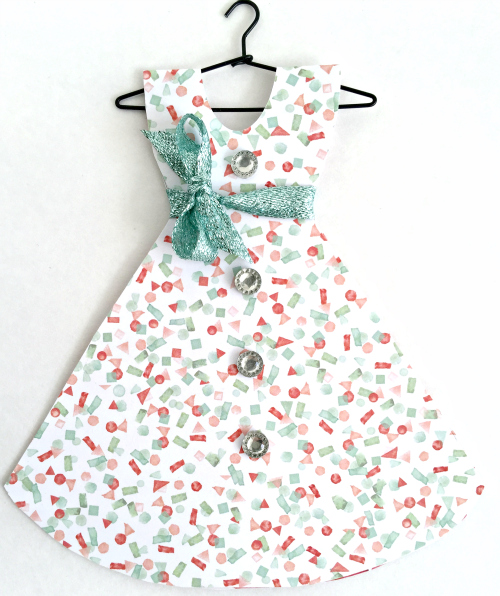 The skirt folds up and the inside is the perfect size to fit a gift card.  You can add a piece of card stock with a message, too.  What's the best part about a paper dress template?  You can use it over and over and over again to make dresses and make your own paper dolls!  How fun is that?  That's what makes this paper dress card template appropriate not only for paper crafters, but for card-makers, too!
I used Stampin' Up!'s Birthday Bouquet Designer Series Paper and Pool Party 3/8″ Glitter Ribbon for my paper dress card, but obviously, you can use any Designer Series Paper that you'd like to use.  The possibilities are endless!!
Once again, to receive the template for this fun paper dress card and to receive my future templates, sign up below in the "Join My Free Template Tuesday Newsletter" box.  The first newsletter will be emailed Tuesday, February 29th. Welcome!